Natural Machines

Natural Machines is selected out of more than 400 applications from across Europe. On December 13th, at the grand European Finals in the Dutch city of Wageningen, this startup from Spain will pitch its idea to a jury of corporates and investors.
The Internet of Kitchens, that's the work of Natural Machines. This Spanish startup intends to make preparing healthier food easier and much more fun by designing Internet of Things Kitchen appliances. Its first creation is Foodini, 'a new generation kitchen appliance that combines technology, food, art and design', as Natural Machines calls it.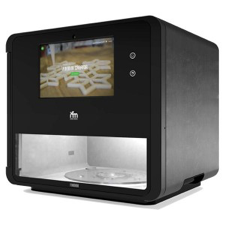 It is a 3D food printer that consumers can use to create savory and sweet meals and snacks. Foodini allows consumers an escape from unhealthy foods by using fresh ingredients. The consumer prepares these ingredients and places them into Foodini, which subsequently starts printing the desired food.
This connected 3D food printer takes on the parts of food preparation that are either time consuming or complex. For instance, creating breadsticks from dough or shaping and filling ravioli. As the ingredients used are fresh, and printing is fun, Foodini encourages more people to adapt a healthy eating habit.
Natural Machines started developing Internet of Things kitchen appliances late 2012 and Foodini is its first product launch. The 3D printer is protected by seven patents and Natural Machines already set up relationships with customers and food brands. Joining the European FoodNexus Startup Challenge allows this startup to further connect to corporate and scientific networks.