Cerescon

How to sell a robot to farmers that are not used to robots? Cerescon hopes to gain this insight from new contacts and investors following its participation in the European FoodNexus Startup Challenge. The Dutch startup designed a harvesting robot for white asparagus. A world scoop, as globally white asparagus is harvested manually. Since it grows under the surface of a sand bed, it requires so-called 'selective harvesting'.
Cerescon developed a robot capable of doing just that by subsurface detection of asparagus, combined with an integrated robot that quickly cuts the asparagus. This robot comes with automated handling of the plastic layer that is often used on top of the sand beds, and automated sand bed recovery after harvesting. The robot harvests 1 hectare per hour, and when optimally used, each one can harvest 40 to 45 hectares during the season.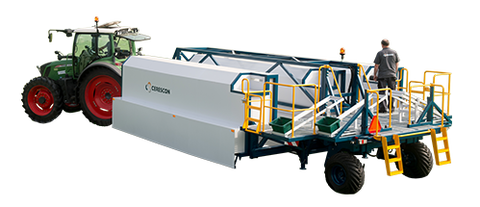 This reduces the farmers' harvesting costs by 50%, while accurate cutting and delicate handling results in a yield improvement of up to 20%, less waste and better-quality products. A three-row robot costs €600,000 which can be earned back in 3 to 4 seasons. Cerescon thinks increasing costs of manual harvesting threatens the viability of the white asparagus business model in Europe. This solution, that cuts both asparagus and costs, should be the silver bullet for this white delicacy.